MarketWatch has highlighted these products and services because we think readers will find them useful. We may earn a commission if you buy products through our links, but our recommendations are independent of any compensation that we may receive.
Some of us have a way with plants; others not so much. If you're in the latter group, a number of companies offer indoor garden kits that don't require soil or watering, and can sometimes produce plants in a matter of weeks. "It's like going to the farmer's market at your own house," says private chef Fabrizio Giorgi. "Growing something indoors is a better option than buying it at the store because you know exactly where it's coming from." We asked chefs and garden pros to pick some of the indoor gardens they like best and share tips on indoor gardening. 
Click and Grow Smart Garden, $99.95
Diego Fernandez, executive chef at Lone Mountain Ranch in Big Sky, Montana, says he likes the Click and Grow Smart Garden because it's easy to use. "It has a self-watering system along with an LED growing light to accommodate any lighting restrictions, and it can accommodate several plants at a time, making it highly versatile," says Fernandez. To start growing, you simply drop in the included plant pods (you have more than 50 choices from basil and lavender to wild strawberries and chili peppers), fill the water tank and plug it in.  Buy now.
AeroGarden White Sprout, $69.99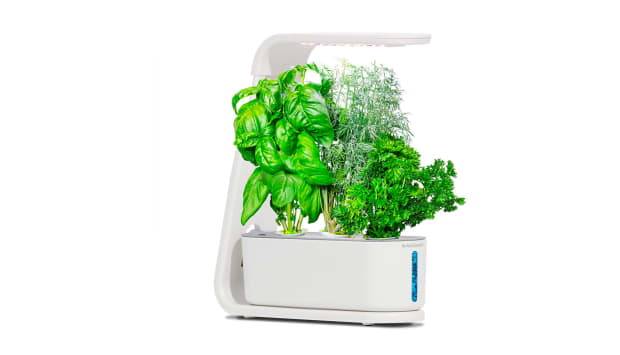 You can grow up to three plants, up to 10 inches tall, in this easy-to-use, soil-free indoor garden. The garden comes with Genovese basil, curly parsley and dill. It scores 4.6 out of 5 stars with reviewers on Amazon, one of whom raves about the AeroGarden: "A green thumb I do NOT have, but fortunately one doesn't need that to grow herbs."  Buy now.
iDOO Hydroponics Growing System, $79.99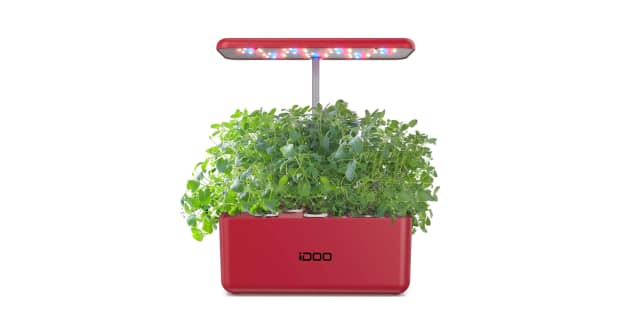 Tracey Price, the owner of American Growers Company, a landscape design and construction firm, says indoor planters are great for starting seeds or growing from seedlings. With this indoor garden, you can grow up to seven plants — from salad greens to cherry tomatoes to flowers — up to 14 inches high. The LED light and the water pump both have automatic on/off settings. Price recommends herbs for your indoor garden: "Tender herbs do well and fill the kitchen with fresh fragrance," she says.  Buy now.
Lettuce Grow Farmstand, $499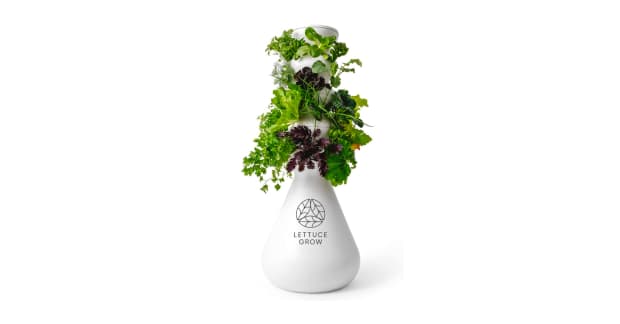 If money is no object, Top Chef alum Sam Talbot says the industrial sized Lettuce Grow Farmstand would be his top choice because, "It's simple, efficient and economical. It's basically a self-watering fertilizer farm in your living room."  The Farmstand offers more than 200 varieties of veggies, fruit and herbs, and you can grow 12-36 plants at a time — no watering or soil required. Buy now.
If that price is too steep for you, and you don't mind a little dirt, Talbot says he also likes the Mr. Stacky 5 Tier Stackable Garden, $19.37.  Buy now.